Marysa
Marysa is a wife and  stay at home mom.  She has two very active little girls, ages 4 and 7.  Her family loves getting outdoors and traveling, including hiking, camping, and enjoying nature.
Marysa has a Master's in Resource Management/Environmental Education and a passion for all things natural and green.  She enjoys working out and healthy eating.  In her free time, Marysa enjoys reading, gardening, and sewing.
Marysa is the managing editor of the blog, and enjoys writing about parenting, vegetarian cooking, nature, and an eco-friendly lifestyle.
Valerie
Valerie, a God-fearing coach's wife and stay at home mom of three bright-eyed little ones, was trying to do what was best for her family, but she always seemed to need a little help along the way.  One day she had a vision – a team of mothers dedicated to helping other mothers in the various facets of motherhood and homemaking.  Born from that vision is A Nation of Moms, a "one-stop shop" blog-azine of resources and advice for all moms who, like Valerie, just needed a little help.  To read more about Valerie's family, please see her personal family blog, Kite Koop.
Valerie is the founder of the blog-azine and she also writes on various topics when she has time.  Read her posts here.
Melanie
Melanie is a stay at home mom of 2, Noah and Amelia.
She is not only a blogger, but owns her own photography business, Melanie Melugin Photography, is active in her local MOPS group, teaches Awanas Cubbies, does preschool education at home, and she and her husband lead their life group at church.  In what little time she has left, Melanie enjoys reading, playing Candy Crush, wishing she could travel…..and sleeping!
Melanie writes about "green" topics.  Read her posts here.
Kimberlee
Kimberlee is a certified music therapist, SAHM, homeschooler and chef for three kids with celiac disease.   She loves to read, teach guitar and hike in the mountains.  Her goal is to post things that either make you smile, hum or think.
Kimberlee writes about music therapy, homeschooling, and her challenges with her family's dietary restrictions.  Read her posts here.
Heather
Heather is a homemaker, wife and mother. She and her husband have three young children. On the side she is a professor at Brigham Young University where she teaches Family Psychology. Three times a week she teaches 100 college students how to have successful families. Then she comes home and tries to figure out how to implement what she just taught. Heather is the first to admit, it is a lot easier said than done. She used to speak French, wishes she could dance, and will almost always choose fruity over chocolate.  Heather is the author of Family Volley, where she answers your questions about parenting, motherhood and relationships. Every Friday she posts a new activity you can do with your family.
Heather writes about parenting, motherhood, and family activities.  Read her posts here.
Maria
Formerly in the insurance industry, Maria is now Mom to a 6 year old daughter, 2 year old son and is expecting her third child in December.  The kids and her husband of 10 years aren't the only animals she lives with; they also have a pet guinea pig and 5 chickens. When not busy with her kids or her blog, Change-Diapers.com, Maria enjoys baking and exercising, and loves gadgets and all things organization.
She is a member of the RDA, RDIA, and BCIA and is an advocate for cloth diapering, natural birth and breastfeeding support (for those who choose to do so.)  She seeks to provide support to other mothers, wherever they are in their journey, without judgment.
Maria, our resident cloth diaper expert, writes about being a "green" and natural mama, breastfeeding, babywearing, pregnancy and about being frugal.  Read her posts here.
Felicia
Felicia Baratz-Savage is a freelance writer and graphic designer living in Indianapolis, IN. As a frequent contributor to Eat Breathe Blog, she discusses eco-friendly innovations, and overall health and wellness.
Felicia writes about health, travel and parenting.  Read her posts here.

Derek
Derek is a former top-ranking professional triathlete, duathlete and runner competing in the Olympic Trials twice.  Currently a collegiate Cross Country and Track coach at his own alma mater, this scientist at heart prides himself on injury prevention.  To add to his sports-filled life, Derek has also worked as an ocean lifeguard (on the world famous Malibu beaches) and a ski patroller and is a former EMT.  He loves God, and enjoys surfing, skiing and playing with his kids (and the two dogs).
Derek heads up our Fitness Friday segments.  Read his posts here.
Laurel
Bio coming soon…
Laurel heads up our food section.  Read her posts here.

Sarah
Sarah is a wife and SAHM of one active preschool boy and one on the way. Before becoming a SAHM, Sarah taught science to grades 8-12. She enjoys spending time with her family in various activities, especially hiking or other outdoor activities. She also enjoys reading, shopping, vacations and spending time with her friends. Sarah strives to serve God and others in her daily life and does her best to be the best wife and mom she can be.
Sarah writes about parenting, books, faith and health.  Read her posts here.
Melissa and Tiffany
Tiffany is a single homeschooling mother to 3 beautiful girls, two of which are twins diagnosed with autism.  Melissa is the proud mother to 3 kids – including one micropreemie princess and currently expecting another little girl in December. She finds the time to work part time as an emergency room nurse, and enjoys homeschooling her kids and exploring ways to live a more natural life – from cloth diapering to extended breastfeeding.  Melissa and Tiffany are the authors behind Home Grown Families.
Melissa and Tiffany write about homeschooling and motherhood.  Read their posts here.
Lindsey
Lindsey is married to her college sweetheart, and mother to three young girls.  She enjoys organization, productivity, crockpot cooking, and baby giggles, and does her best to maintain her house and family while working full-time as an attorney, focusing on creditors' rights and real property title law.  She blogs about her parenting practices and her affinity for cute shoes at High Heeled Mom.
Lindsey writes about time management and organization.  Read her posts here.
Elisabeth
Elisabeth is the mother of three boys, wife to author A.M. LaMouria, and a child of The King (Jesus Christ).  She is passionate about her faith and her family.  She loves to cook, create, and be adventurous.  Currently, she is finishing up a 15-month apprenticeship at Lakeshore Pilates, and will be PMA certified in August 2011.  Click here to see her personal blog.
Elisabeth writes about healthy cooking and smart family entertainment.  Read her posts here.
Keleigh
Keleigh is a young wife to a wonderful husband and mother to two precious sons, one of which was born at home.  A talented design artist and photographer, she is incredibly blessed to work alongside her sisters in their "family business" and have countless opportunities to grow closer to her Lord & Savior! When she has the time, she also writes on her own blog, Blessed beyond Measure.
Keleigh writes about the basics (and not-so-basics) of photography and life as a young mom.  Read her posts here.
Laura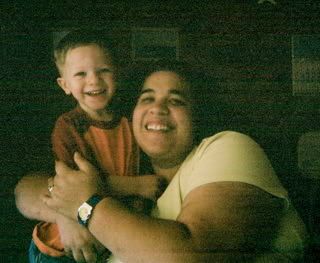 Laura is a mom to one crazy little guy as well as a technology and special education teacher. she blogs over at My 3 Ring Circus of a Life about the insanity that she encounters on a daily basis. She loves hockey (except the Detroit Red Wings), Disney (and is a former Cast Member!) coffee and occasionally geeking out with video games, especially Rock Band.
Laura writes about children with special needs.  Read her posts here.