A Nation of Moms presents…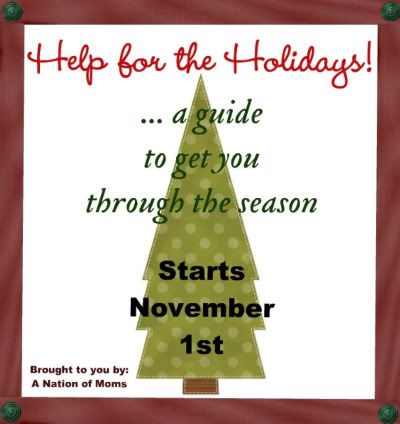 ***

CLICK HERE

TO VIEW THE PRIZES AND ENTER THE GIVEAWAYS!***
We're kicking off the holiday shopping season with a few wonderful giveaways to help you through. So come back

November 1st

for a week of fabulous prizes

WORTH OVER $700

(and growing)!
Our Sponsors:




WANT

10

EXTRA ENTRIES INTO THE GIVEAWAY EVENT?
Post the html code at the bottom of this post into a post on your own blog between now and October 31st. (If you don't have a blog, post all the pertinent info and link to your FaceBook status.)
Leave me a comment with a link to your post.
Receive 10 extra entries to use any which way you like during the event.  Split it up between prizes or "put all your eggs in one basket."
If you refer a friend and he/she posts about this on his/her blog or FaceBook status, you both receive

another 10 bonus entries

!  

NO CAP

on the number of referrals/extra entries. That is, if you refer 5 friends, you will get 50 points!!!!  Refer more and get more.  It's

unlimited

.
Make sure you leave me a comment saying who referred you.
Keep your eyes peeled on our NEW FaceBook fan page and Twitter for another opportunity for bonus points coming soon!
****UPDATED****
HTML CODE TO COPY:

<p style="text-align: center;"><strong>Want to earn <span style="text-decoration: underline;"><span style="color: #ff0000;">10 EXTRA ENTRIES</span></span> into this GIVEAWAY event?</strong></p> <p style="text-align: center;"><a href="http://anationofmoms.com" target="_blank"><img src="http://i992.photobucket.com/albums/af41/kitekoop/buttonholiday_Page_0-1.jpg" border="0″ alt="Photobucket" width="400″ height="424″ /></a></p> <p style="text-align: center;"><span style="color: #ff0000;"><span style="color: #000000;">Go to</span> <a href="http://anationofmoms.com/?p=3479″><strong><span style="color: #008000;">A Nation of Moms</span></strong></a><strong><span style="color: #008000;"> </span></strong><span style="color: #000000;">and pick up the code to post on your own blog for your </span><span style="color: #008000;"><span style="text-decoration: underline;"><strong>10 extra entries</strong></span></span> <span style="color: #000000;">in this fabulous giveaway event.</span></span></p> <p style="text-align: center;"><span style="color: #008000;"><span style="color: #000000;">If you use me as a referral, we both receive</span> </span><span style="color: #ff0000;"><span style="text-decoration: underline;"><strong>another 10 bonus entries</strong></span></span><span style="color: #008000;">!</span></p>