When I was pregnant with my daughter, I knew there would be a time when I would no longer need my beloved high-end baby jogger.  At the time we purchased it, it was to be our only stroller for our son – no umbrella strollers, no light-weight strollers or travel systems, just the jogger.  The reason for this was because 1. we were going to pay a bunch of money for it and 2. we loved how it turned on a dime and how easy it was to push when compared to every other stroller we tried.  There was just no other stroller we even wanted to push after having experienced that one.  So you can see why I was dreading a double stroller, and avoided making a choice.  We couldn't afford the double version of the jogger, nor did we like all its features anyway.
But what do you choose the best double stroller with so many options out there?
Here's what I did know:
I wanted something that I could easily push through doors, so tandems were in and side-by-sides were out. I know there are pros and cons to both, but this is what would work for me.
I wanted something where both kids could be comfortable and recline.  Most compact options didn't fit the bill.  I didn't despise them for the sake of being compact (that part I actually liked), but because the older child just looked too upright and uncomfortable, or, as with a sit-n-stand option, there was no back support.
Since it was to be my only stroller, and a leisurely one at that, I wanted both kids to be able to see out.  Most tandems had the older child stuck in the back with minimal views (like a sit-n-stand, where they get a good view of the pusher) or no views at all (where they are stuck almost underneath the front seat, low to the ground in a reverse stadium seating arrangement).
I wanted to find a way to have the seats face each other, because if this new baby was anything like her older brother (which she is), she would spend the first year of her life hating her stroller and wishing she could look at a familiar face to get her through.  So, I wanted her seat, in particular, to face me and/or her brother.  It would be nice if the seats would magically be able to reconfigure to face forward once she was over the "I hate my stroller" phase.  (Were there any strollers out there that did this sort of thing anyway?) This was a biggie concern for me.
Though only a minor concern, I also secretly wished it would handle well, turn on a dime, was smooth, not hard to push, and would travel easily through all terrains.  That was a far-fetched wish, I know. Or was it?
I actually got my wishes – yep, even the minor one.  What stroller is it, you say?  Perhaps you've heard of the manufacturer.  If you have a child it's almost certain that you have come across (or even own some) this well-recognized brand at some point in the past few decades: they carry strollers, bassinets, crib mattresses, walkers and activity centers, booster seats, carriers, playards, highchairs, potty seats, swings and bouncers.  Kolcraft's Contours Options II Tandem gave me all the flexibility I needed in a double stroller and more!
Brace yourselves!  I made a comprehensive (by that I mean long and detailed) list of the pros and cons.
Pros:
Two identical and interchangeable full-size seats that recline to almost parallel and can fit two infant carriers (with an additional attachment), making this a true twin stroller.
Did I mention that these seats are reconfigurable?  Yep!  6 different ways. The children can face each other, both face out, both face mom, face away from one another (when they just can't keep their hands and feet to themselves – see 3rd photo down below), or you can put an infant carrier in one seat or both!  You can even remove a seat and just have extra storage space.  All this with an easy push of a button on either side of the seat!  I just LOVE the versatility!
There are 4 cup holders – two on the parent tray, which are nice and deep, and one swiveling cup holder for each child.  The kid ones are detachable, which unfortunately make them easily accessible as toys for my infant.
You can easily adjust the height of the canopies, or even remove them.  Each canopy has a peek-a-boo window for the parent.
Comfortable padded harness on each seat.
Two soft-grip handles on the side of the stroller for older children to grip and walk along side the stroller.
Offers lots of storage underneath.
Removable safety bar on each seat that swivels open.  This doubles as a footrest for my daughter, or use it as a bar in which to hang toys.
Foot rests.
Easy step-in toddler feature.
Parent tray has a storage compartment for things like keys, phone or sunglasses.
Removable iPod Dok with speaker (I haven't tried out this option).
Parent soft-grip handlebar is wide and the height is perfect for moms and dads, and easily holds the diaper bag.
Easily removable front wheels, if needed.  This was not the case with my jogger (the hubs had to do it for me every time).
Easy-trigger fold.  It's easy to open up as well.
Convenient free-stand feature allows the stroller to stand upright when folded.
Stylish – I get stopped everywhere I go!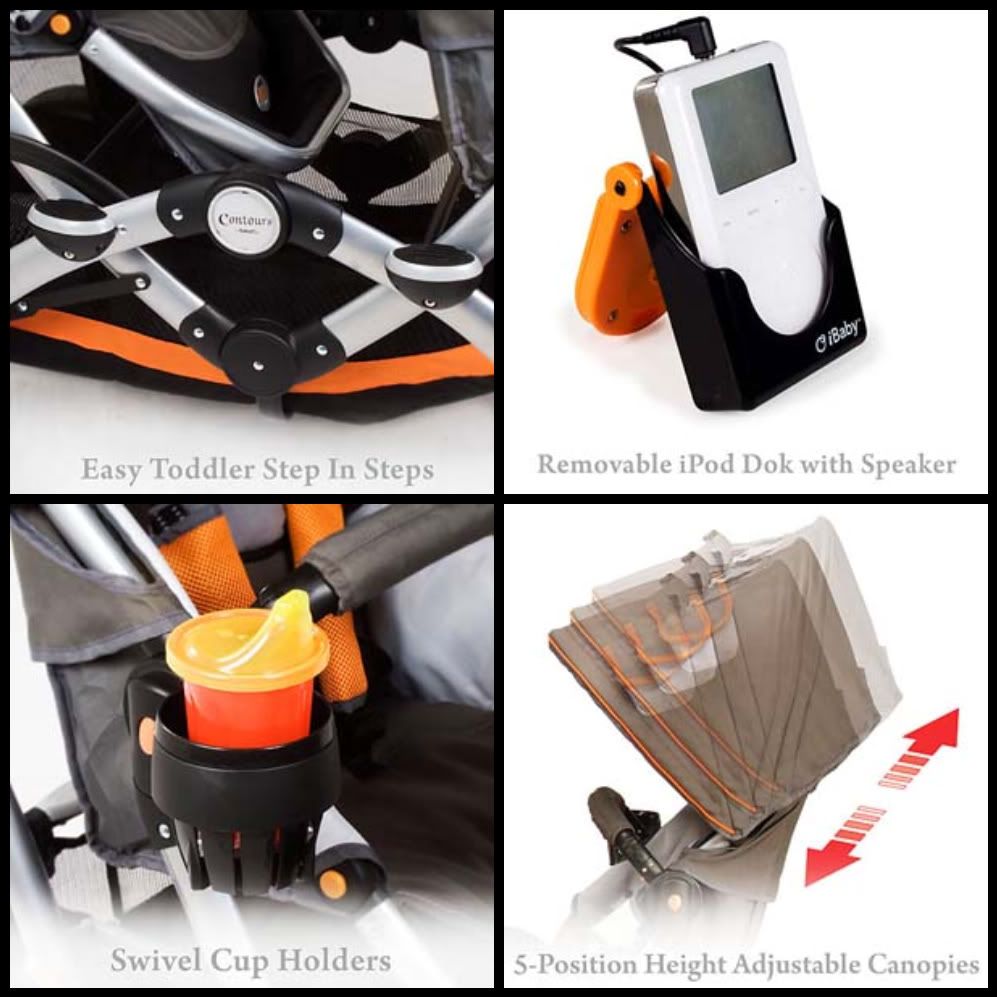 Cons:
It's big and heavy to lift, but we're talking a double here people and one where comfort is not spared, so what do you expect?
A little on the bulky side, but much less than I expected (perhaps my jogger prepared me well for this).  If you want it to be comfortable for your kids, you have to sacrifice somewhere.  On the flip side, it's definitely not flimsy.  It's as sturdy as they come.  This will definitely last through years of abuse.
You have to remove at least one of the seats (though easily done) to fold it compactly, and it still takes up quite a bit of room in the back of my minivan.  Laying down, it takes up the entire cargo space, but my minivan is large enough where the stroller can stand upright on one side, thus leaving ample room for storing groceries and the like.  In a smaller car, the trunk space may be fully utilized to house this stroller.
Though it features stadium seating, I think this still needs more improvement when the canopies are in place.  My son, who likes to sit in the rear, cannot see well over the front canopy.
The seat backs are not long enough for older children.  If my son were to fully recline (which at this point he doesn't like to do anyway), there would be a metal bar at his head.  It looks a little uncomfortable to me, but he assures me that it isn't.
There are a couple of other issues with reclining the seats… apparently, you cannot recline the front seat when using an infant carrier in the back (or so I've heard).  Also, there is not enough room to fully recline the rear seat when the canopy is in place (canopy hits the parent handlebar).  Although, in my opinion, it still reclines to a great angle with the canopy in place.
I didn't have any trouble taking it into a wide elevator along with 2 additional people and one compact stroller, but I can see where this might be a problem in smaller elevators. The worst that can happen is that you have to fold up the stroller and either carry or let the kids stand in the elevator.  A little cumbersome, but a small price to pay for such a great stroller.
Simple but time consuming to assemble.
One thing it is lacking is a snack tray.
How does it handle?
Like a dream (for a stroller anyway)!  I had heard that double strollers were difficult to push (mostly because of the added weight of an additional child), but I was pleasantly surprised with this stroller.  Yes, you do have added weight, but it's not excessively heavy, difficult nor is it awkward to push.  In fact, I rather enjoy pushing it.  It is easy to steer and navigate, turns effortlessly (surprisingly so for such a long stroller) due to the swiveling front wheel, and is amazingly lighter to push than some single strollers I have had the privilege of borrowing from friends in the past.  The size of the wheels and the suspension make for a smooth ride and maneuverability even over rougher terrain.  The good news for me is that it doesn't hurt my back (I have had back problems since I can remember!).
Wanna know the best part?
It's the cost!  Most double strollers are pricey, unless you skimp on the features or the workmanship.  This stroller has the best of both worlds – features and quality all for an affordable price of $269.99 retail.  You can purchase them at most major retail chains like Babies R Us or Target.  However, Amazon
is offering it for $242 with free shipping.
Bottom Line: I highly recommend the Contours Options Tandem II Stroller for parents who want versatility without sacrificing comfort (for both parents and children) or their pocketbooks.  It's the Cadillac of double strollers.
My Rating:

(4.5 of 5 wheels)
Come back in 10 days for a chance to win a Contours Options 3 Wheeler during BlogMania!
Find Kolcraft on Twitter, Facebook, or their blog.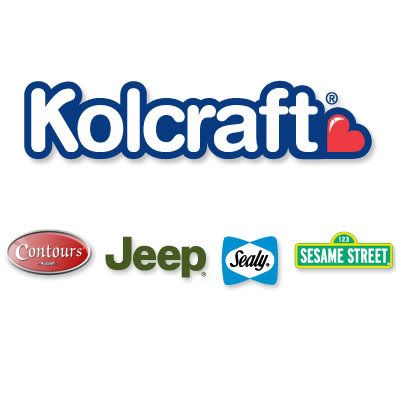 Disclaimer: The sample product(s) reviewed was provided free of charge. VoM was under no obligation to review it if we so chose, nor was VoM under any obligation to write a positive review in return for the free product. The views and opinions expressed in this post are solely that of VoM, and are completely honest and without influence. VoM has reviewed this product(s) because we like it and think it would benefit our readers. To view our full policy, please click here.