SCROLL DOWN FOR THE GROBABY GIVEAWAY
127 total comments did not transfer to new WP site during the to Blogger to WP migration (still sitting on Blogger).  Don't worry, those entries still count!
*********************************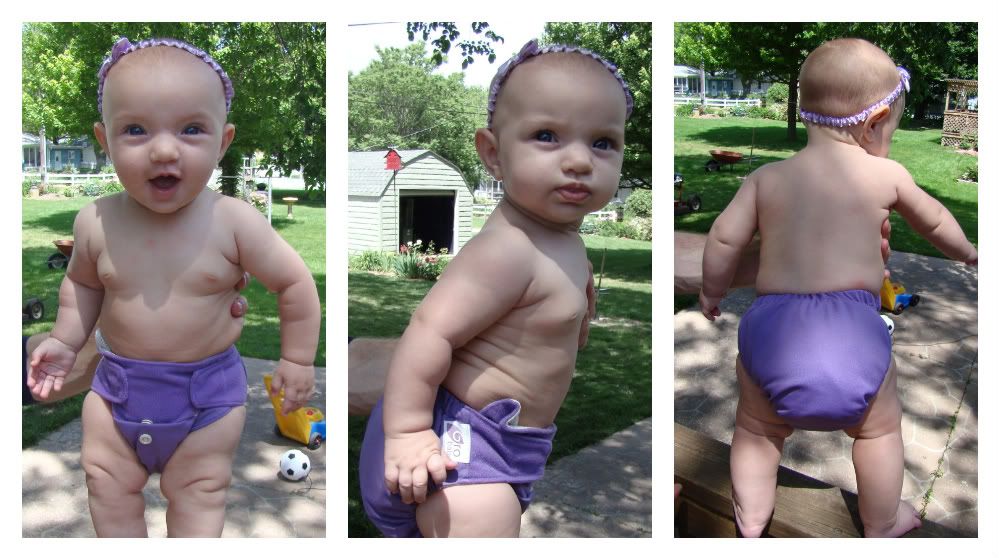 There's no doubt that I'm a newbie at cloth diapering, and I'll be the first to admit that I am still pretty clueless.  One thing is certain, however – I have done a lot of research on the different types and brands of diapers to make sure I didn't spend too much money on the wrong choice.  My job here today and during this CD'ing segment, is to help other moms that are "on the fence" about switching to cloth to come on down and try it out.  I used to be one of those moms that swore she would never CD, and much enjoyed the convenience of 'sposies (disposable diapers) – I'm starting to sound like I know what I'm talking about, don't I?  So if I can do it, then you can, too.
After I made the decision to switch, here's what I was looking for in a diaper…
Easy to clean
OS – One size diapers have adjustable rise snaps to "grow" with your baby from newborn to toddler.  In the end, they save you money, unlike a sized diaper.  But it seems as if they are bulkier to accommodate for those larger toddler sizes.  Ideally I would love to get sized diapers, but money does not allow it.
Easy and fast to use (all the inserts, snaps, and folding were scaring me)
Inserts stayed in place
Soft on my baby's tushy
Like the expensive all-in-one (AIO) but with a reusable cover/shell – My first "go" at cloth diapering was with a leading brand OS pocket diaper … silly me thought that I could reuse the shell!  I was sorely disappointed.
So what kind of diaper would fit that criteria?  That's when April at Wee Little Changes, who also very much wants more moms to switch to cloth, kindly sent me a GroBaby AI2 (all-in-two) OS Diaper to review. When I got it in the mail, even my hubby got excited.  I knew right away that I was going to like this hybrid type of diaper (AI2) much better.  It fit all of my criteria plus the super-soft inserts were organic cotton.  Add that to no fussing with folding inserts, and score!
Each GroBaby set comes with a shell, a fairly trim organic soaker pad and a very thin organic booster. The soaker pad snaps into the shell in two places to ensure that it doesn't move around.  And when it's wet, you simply put another soaker pad in it's place.  The shell is reusable, saving on laundry and your pocketbook.
Laundering isn't that hard either.  I just throw the set in my machine, add some detergent (I used Tiny Bubbles because that it's what I had on hand), and dry the inserts on low (or line dry). It's so easy to dry the shell, but the soaker does take a little longer to dry.  After one run in the dryer on a low setting, I had to end up line drying it.
Major Score: Because GroBaby just rebranded to GroVia,  the inventory of GroBaby diapers needs to be cleared.  At Wee Little Changes, you will find them at clearance prices. But don't worry, all GroBaby diapers will be interchangeable with the new line.  I think I would still like to look at a GroVia to see what changes have been made, but I'm pretty happy with the GroBaby already.  Thanks, Wee Little Changes!
When you need help finding your match, contact April at Wee Little Changes.  She's absolutely fabulous, and patiently worked with me when I had NO clue on what to get. She is dedicated to researching and testing all of the diapers on her own family, and only carries the winners.
Check out her blog for specials and coupons (she currently has a 10% off code with a free sample).
Brand: GroBaby
Style: One Size with 3 adjustable rise snaps, AI2
Closure: Velcro
Inserts: Organic cotton soaker pad and booster.  Soaker snaps into place on both ends.  Good absorption, especially for their trim size.
Rating: 4 out of 5 stars
Cons: Bulky but not any bulkier than other OS diapers. So far for us the shell has gotten wet a few times, but to be fair, my daughter is a heavy wetter and we don't use the booster often.  I wish the thigh areas were snugger, but so far it has contained messes the way it is.  (I have yet to try it overnight.)


BUY IT: Reduced to $19.96 for solids and $21.96 for prints on Wee Little Changes (plus free shipping on US orders and a 30-day return period)




MANDATORY:
If any of these mandatory requirements are missing, ALL of your entries/comments will be not be valid. You must also include your email in your comment, or have it visible on your profile.
***Want More Chances to Win?***
(Please leave a separate comment for each additional entry)
Publicly follow this blog (Village of Moms) through Google Friend Connect. (1 extra entry)
Join Village of Moms on Facebook. (1 extra entry)
Subscribe to my blog by email (on the sidebar). (2 extra entries)
Giveaway closes

June 13th @11:59 pm CST

. Open to all US residents.
Winner will be chosen via
Random.org
and has 48 hours to respond to my email or another winner will be chosen. The winner will be announced on this blog at the end of our giveaway.
Disclaimer: The sample product(s) reviewed was provided free of charge. I was under no obligation to review it if I so chose, nor was I under any obligation to write a positive review or sponsor a product giveaway in return for the free product. The views and opinions expressed in this post are solely that of VoM, and are completely honest and without influence. I have reviewed this product because I like it and think it would benefit my readers. To view our full policy, click
here
.